Vintage II Custom Interior
Complete! Affordable! Everything in One Kit!
Please give us a call at 651-772-9722 for free interior samples and a full color brochure before ordering.  A restocking fee may apply for returned interiors
Please note some prices have gone up. Please call for current prices.
Vintage II Custom Interior
The new Vintage II interior has changed to Bristol, a soft patterned fabric. It also now has a larger variety of colors to offer. The kit is easy to install and reasonably priced for a great looking interior.
Includes:
Front and rear seat covers in Bristol fabric. Also includes seat side shell covers.
Pre-sewn brushed cotton headliner.
Loop or cut pile matching carpet pre-sewn with bound edges and heel pad. Carpet pad included.
Replacement cardboard kick panels and rear package shelf.
Cloth windlace pre-sewn to factory specs for easy installation. "Wire on" included for 1949-52 models.
Cloth covered sunvisors. You must send us your cores to recover – minus mounting hardware.
Preassembled door panels include new waterproof cardboard covered with padded fabric and new metal edge support strips. Ready to install using your stainless trim pieces. Also includes armrest covers.
Interiors are available in light charcoal, toast, walnut, ocean (blue) and burgundy. Forest green is available in smooth finish only.
CALL FOR COLOR SAMPLES.
Set of 4 for an additional $150.00. Great if you don't have stainless for your doors.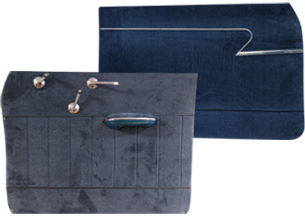 Contact us for samples in your choice of color.